GlassFish
é um projeto de servidor de aplicação de código aberto iniciado pela Sun Microsystems para a plataforma Java EE e que agora e patrocinado pela Oracle Corporation. A versão suportada na plataforma Jelastic é chamada Oracle GlassFish Server. O GlassFish é um software gratuito e duplamente licenciado sob a Common Development and Distribution License (CDDL) e a GNU General Public License (GPL).
O
GlassFish
proporciona confiabilidade e performance de nível empresarial com recursos completes de clusterização e possui uma vasta gama de funcionalidades. Uma das mais interessantes é a possibilidade de gerenciar seu repositório central através de um painel de controle, que também suporta todas as funcionalidades do GlassFish. Mas, como já é sabido, mais funções requerem mais recursos.
Para ter o GlassFish 3 rodando na núvem, basta:
1. Acesso o
Painel de Administração Jelastic
,
2. Clique em
Criar Ambiente
,
3. Selecione o
GlassFish 3
como seu servidor de aplicação conforme exemplo a seguir: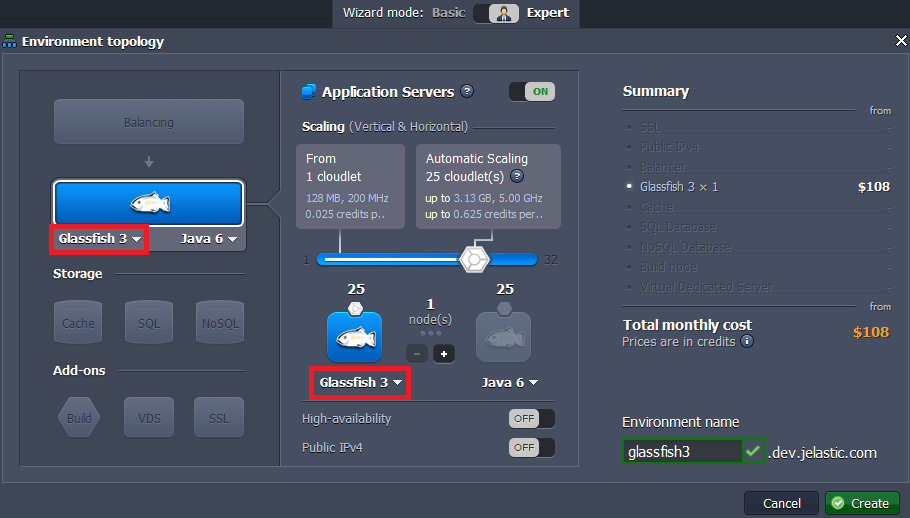 Assim que o ambiente tiver sido criado, você pode abrí-lo em seu navegador (
Abrir no Navegador
) e verificar seu funcionamento:
Agora, você pode carregar (upload) sua aplicação empacotada (WAR) e instalá-la em seu ambiente. Se precisar, você pode abrir a página de administração do GlassFish pelo Painel de Administração Jelastic:
A página de administração do GlassFish estará disponível em uma nova aba de seu navegador.
Note:
Jelastic uses
gfcluster
as a cluster, so if you want to modify something, please apply changes to
gfcluster
.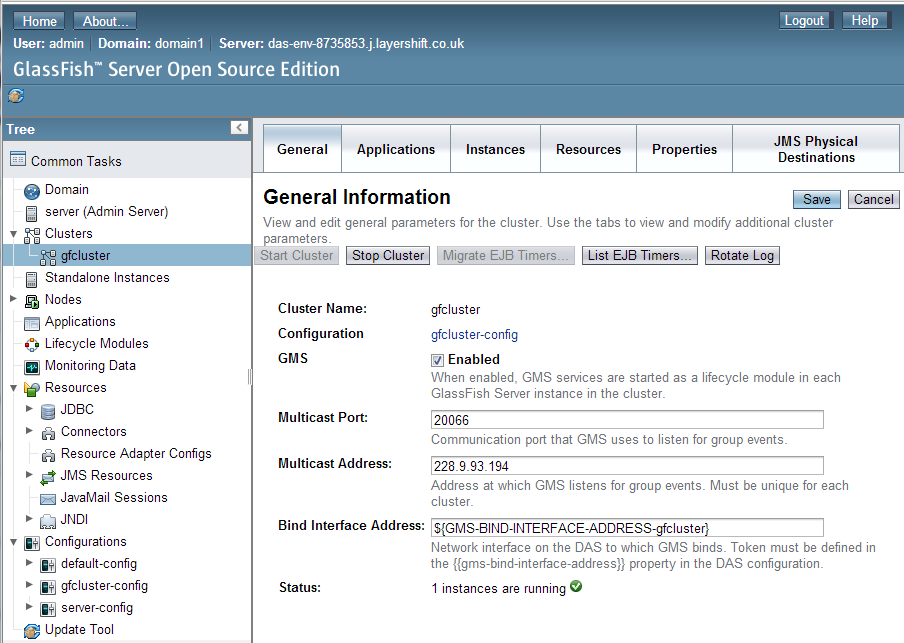 Se compararmos o GlassFish com outros servidores de aplicação rapidamente vamos perceber que ele é um "papa recursos" mas isso é compensado pelas funcionalidades, confiabilidade e inúmeras outras vantagens.
Configuração
dos
Servlets
Recursos consumidos pelo Ambiente
Em espera
Executando o painel de administração
1 GF
530-540 Mb (5 cloudlet)
800-820 Mb (7 cloudlets)
2 GF (HA off)
820-830 Mb (9 cloudlets)
980-1000 Mb (10 cloudlets)
3 GF
1050-1060 Mb (11 cloudlets)
1210-1220 Mb (13 cloudlets)
4 GF (HA off)
1430-1450 Mb (14 cloudlets)
1560-1580 Mb (15 cloudlets)
2 GF (HA on)
830-850 Mb (9 cloudlets)
1030-1050 Mb (10 cloudlets)
4 GF (HA on)
1360-1380 Mb (14 cloudlets)
1590-1610 Mb (16 cloudlets)