GlassFish
ist ein Open Source Application-Server-Projekt für die Java EE Plattform, das von Sun Microsystems gegründet wurde und heute von der Oracle Corporation unterstützt wird. Die verfügbare Version heißt Oracle GlassFish Server. GlassFish ist eine kostenlose Software unter den zwei freien Lizenzen von: der Common Development and Distribution License (CDDL) und der GNU General Public License (GPL) mit der Ausnahme vom Klassenpfad.
GlassFish
bietet eine Ausfallsicherheit und Performance auf Enterprise Niveau mit vollem Clustering und einem großen Funktionsumfang. Besonders hervorzuheben ist auch die Möglichkeit, dass Sie den zentralen Datenspeicher über das Admin-Panel verwalten können, das alle verfügbaren Funktionen in GlassFish unterstützt. Mehr Funktionen verbrauchen allerdings auch mehr Ressourcen.
Um Ihren GlassFish 3 Server in die Cloud zu bringen, müssen Sie lediglich:
1. Sich in
einloggen,
2. auf
Umgebung erstellen
klicken,
3. und
GlassFish 3
als Ihren Application Server auswählen, wie im Bild unten gezeigt: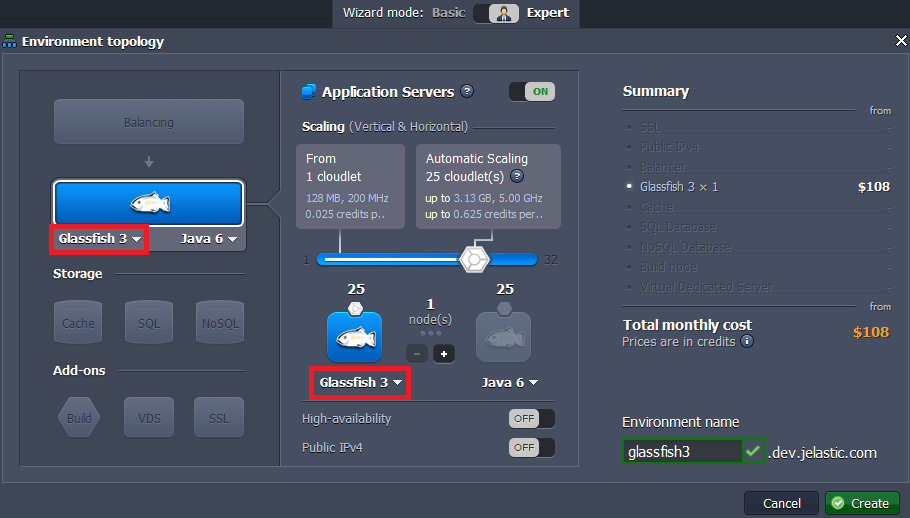 Sobald die Umgebung erstellt wurde, klicken Sie in der Umgebung auf
Im Browser öffnen
direkt neben dem GlassFish Server (Sie können die Umgebung mit dem Pfeil am linken Rand aufklappen, um die einzelnen Komponenten zu betrachten):
Danach können Sie die WAR Datei der Java Applikation hochladen und sie auf der Umgebung deployen. Die Administrationsseite von Glassfisch öffnen Sie aus dem Jelastic Dashboard heraus:
Die Seite erscheint dann in einem neuen Tab.
Note:
Jelastic uses
gfcluster
as a cluster, so if you want to modify something, please apply changes to
gfcluster
.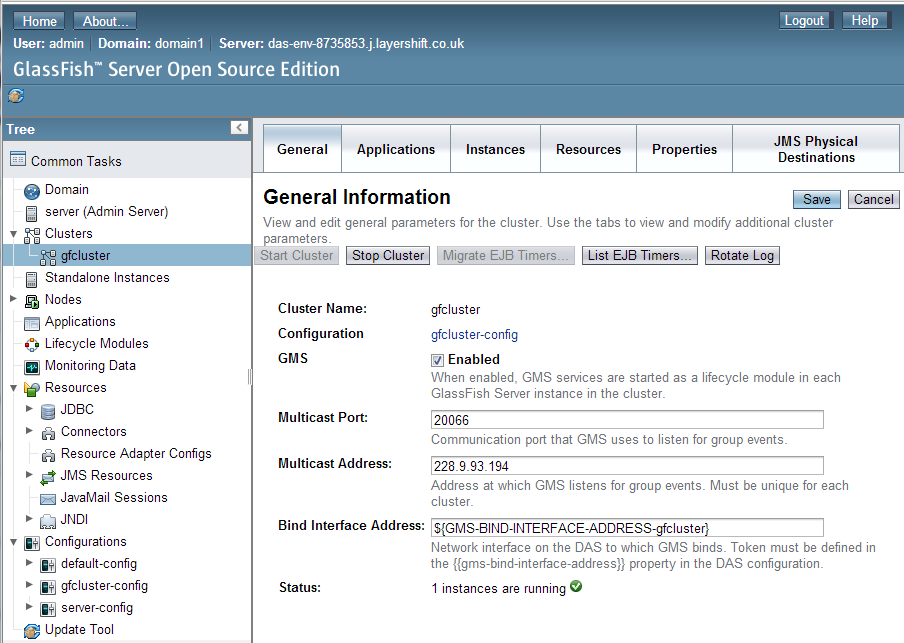 Beim Vergleich der vier verschiedenen Application Server erscheint GlassFish deshalb ein wenig wie ein Ressourcen-Fresser, aber sein Verbrauch wird von den zahlreichen Funktionen, der Stabilität und vielen anderen Vorteilen wieder ausgeglichen.
Servlet
Container
Konfiguration
Ressourcenverbrauch der Umgebung
Leerlauf
Mit gestartetem Admin-Panel
1 GF
530-540 MB (5 Cloudlet)
800-820 MB (7 Cloudlets)
2 GF (HA aus)
820-830 MB (9 Cloudlets)
980-1000 MB (10 Cloudlets)
3 GF
1050-1060 MB (11 Cloudlets)
1210-1220 MB (13 Cloudlets)
4 GF (HA aus)
1430-1450 MB (14 Cloudlets)
1560-1580 MB (15 Cloudlets)
2 GF (HA an)
830-850 MB (9 Cloudlets)
1030-1050 MB (10 Cloudlets)
4 GF (HA an)
1360-1380 MB (14 Cloudlets)
1590-1610 MB (16 Cloudlets)